OUR ALL-ROUND SEALING SERVICE
All information about technology, material and ordering, 548 catalogue pages in detail, helpful tools for sales support - you will find it here.
FAQ: FREQUENTLY ASKED, ANSWERED HERE.
You can find important information about ordering and technical details in the collected FAQs. Still have questions? Then we are happy to help you personally!
Order/sample
What is the minimum order value?
The minimum order value within the European community is 30.00 € net goods value. Delivery ex works plus transport charges.
How can I place an order?
You have the option of placing your order by e-mail, fax, telephone, letter or online. Go to the order form here
Where can I find the profile that I need?
You can find the relevant information on the index pages of the main catalogue as well as in the price list at the end of the line.
What does it mean if the product tile does not contain any colour information?
If the product tile does not contain any colour information, this is a special profile. We do not keep this in stock, but we would be happy to produce it for you in lengths of 200 metres or longer.
Are the illustrations in the catalogue in 1:1 scale?
The profiles in the catalogue are depicted in 1:1 scale.
Will samples be returned?
Unfortunately, we are unable to return customer samples.
Why are not all seals on stock?
We produce all seals in house, so it may be the case that a seal is in the reproduction stage. However, we make every effort to keep delivery times to a minimum.
From what quantity can I obtain a specific colour?
For order quantities of 200 metres or more, we can produce seal profiles in almost any colour. Please ask for a possible colour surcharge. Our specialists will be happy to help.
Which colours are available on stock?
See the colour legend to find out which colours are available on stock. You can find this in the relevant product tile in the catalogue.
Can I send you samples to help make a decision?
Feel free to send us a piece of the required sample to help us make a decision. You can also send us a stamp via e-mail or fax. Use our order form here
Can I obtain samples for testing?
We would be happy to send you samples of about 10 cm for testing.
Can I order online as a registered customer?
If you are a registered customer, you can order online at any time. Simply log in using your customer ID and password.
Why can't I see all profiles online?
The full overview is reserved for our customers who are registered on our website.
Can I view my previous orders in the customer area on the website?
All orders that you have placed online are listed chronologically here
What is the purpose of the second illustration in the box?
This is an alternative illustration showing either the previous cross-section (see foam rubber as hollow-chamber profiles, for example) or the delivery condition (e.g. double-strand profile).
Delivery
How about delivery costs?
Standard delivery is ex works plus transport charges.
Can I have goods sent directly to customers?
You have the option to dispatch goods directly to customers. Simply let us know the exact address, transport charges at your expense. See also the "orders" FAQ section.
How long is the standard delivery time?
We generally dispatch your order on the same day, that we receive your order, or on the following day at the latest.
Do you offer an express delivery option?
Yes, of course, we offer express delivery. Please inquire about the corresponding additional costs. These are based on the delivery times required and the location of the specified delivery address.
Can I return goods?
Our seals are generally not subject to replacement or return, however feel free to contact us in specific cases.
Profiles/produtcs
What is an anti-stretching string?
The anti-stretching string, we name it coated cord, is a so-called stretch protection that is integrated into the seal during production. This string largely prevents the longitudinal expansion of the seal profile on installation. The seal does not contract. This ensures that there are no gaps between the seals in the mitre range.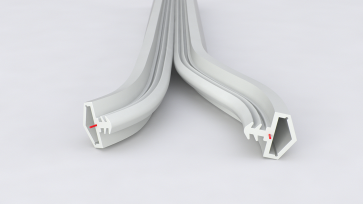 What is an anti-stretching string?
Generally the seals are available in 5-metre fixed lengths from 5 metres on, i.e. 5 metres, 10 metres (or 2 x 5-metre fixed length), 15 metres (or 3 x 5-metre fixed length) etc.
There are exceptions for seals that are mainly used in house and balcony doors. We provide these in 6-metre increments, i.e. 6 metres, 12 metres, 18 metres etc.
Our collar lengths are generally 25 metres. However, we also have collars or coils at 50 or 100 metres and more. Do you need other lengths or pieces? Please contact our specialist staff for this.
What profiles do I get as frame or corner?
All seals for wooden windows are available as complete, cleanly welded seal frames. See our frame production order form for further useful information. You can also obtain all profiles with the following symbol in the top-right corner of the seal tile in the cataloge as welded frames or with special corners.

What is a double-strand profile?
The double-strand seal is produced as a two-strand profile and is divided by pulling the strands apart prior to processing, ensuring that each strand can be integrated individually.
What does "foam rubber as hollow-chamber profiles" mean?
These are profiles that were previously made of foam rubber. Part of these profiles are no longer produced or only in small quantities. We have converted these types of profile to hollow-chamber profiles made of TPE, where the outer contour remains unchanged. The benefits: the profile is generally available from lengths of 5 metres and frequently also in white colour. For the most profiles, it is still possible to retain the previous foam rubber profile.
What is a tear-off support?
GfA-Dichtungen came up with the idea of a tear-off support in 1980. If offers the following functions:
packaging support to stabilise the seal during transportation, preventing potential crumpling.
functional support to be torn off, thus regulating the closing pressure in the component on a one-off basis.
Which profiles can be made self-adhesive?
In general, all profiles can be provided with a straight or smooth self-adhesive surface.
From what lengths can seals be made self-adhesive?
On request, we can produce self-adhesive seal profiles from lengths of 100 metres.
My delivery shows deformations. What to do?
Bundles cannot be wrapped without pressure marks, because one layer overlaps the other. Slight deformations can occur at these points, which will reset within a few days. You just have to be patient.
Material and processing
Which materials can be welded?
We offer corners and frames made of TPE, PVC and silicone rubber.
Which are better: welded or notched corners?
Notched corners are a faster solution, but we recommend welded corners
Against which substances are seals resistant?
This depends on the material used. Please contact our specialist staff for more information.
What is the difference between EPDM/APTK and TPE?
TPE consists of a mix of the best parts of both PVC and EPDM/APTK. Like PVC, TPE can also be welded into corners or frames, while the processing of EPDM/APTK is more complex in this case. There is no leaching associated with TPE, which can lead to discolouration of contact areas, i.e. it does not leave any black stripes behind. This material also comes in almost the same wide range of colours as PVC.
Should the corner be cut or mitred? Are there any differences in the case of steel frames and room doors?
This depends on personal taste and style. As seals are generally rather poorly mitred using a pliers, the seal typically runs continuously up, while the two upright lengths impact on it from below.
Can seals be coated?
As a general rule, seals should not be coated. Paints, oils, thinners, etc. can result in damage to the profile.
Against which coatings are seals resistant?
PVC is resistant to conventional synthetic resin and DD coatings. TPE is resistant to conventional synthetic resin and DD coatings, as well as to environmentally friendly, water-thinnable coatings based on acrylic resin. Silicone rubber is resistant to conventional synthetic resin and DD coatings, as well as to environmentally friendly, water-thinnable coatings based on acrylic resin.
Seal does not fit. What to do?
Please contact our specialist staff in this case.
Which adhesive is used for what?
Please contact our specialist staff in this case.
Why do I need a primer?
The primer is used to pre-treat the surface to ensure better adhesion. If you do not use a primer, there is no good connection.
Tool
What is the right roller for my seal?
Please contact our specialist staff for more information.
From what quantities new tools can be produced?
We produce new cost-efficient tools in our own toolmaking unit from order quantities of just 200 metres.
Can new tools be modified?
Smaller adjustments can generally be implemented, but need to be considered on a case-by-case basis. In the case of larger modifications, a new tool usually needs to be produced.
Others
Is on-site consultation also available?
Of course, a personal on-site consultation is available. Our qualified specialists in the field will be happy to assist you. To find the right point of contact, see: our consultants.
Can't find your question here?
Please send your question to: service@gfa-dichtungen.de